MyDataCatalogue trials by DAWIZZ
MyDataCatalogue trials by DAWIZZ
MyDataCatalogue in few words
MyDataCatalogue is a complete platform for data discovery and global data cataloging (Databases, APIs, and Volumes). The DAWIZZ Trials allow you to discover all the features of the platform for 15 days for free!
Why we propose a MyDataCatalogue trial?
Dawizz has thought about those who wish or have engaged in a data governance approach. You have a project for global cataloging and data discovery, but you don't know how to differentiate the offers in the market? That is why we offer you the opportunity to try our solution first, so you can make your own opinion. If you are interested in MyDataCatalogue but are not sure that our solution meets your data governance needs, you can request a trial for 15 days. This solution gives you the chance to test the platform for free and see how it can meet your expectations.
How is a MyDataCatalogue trial conducted?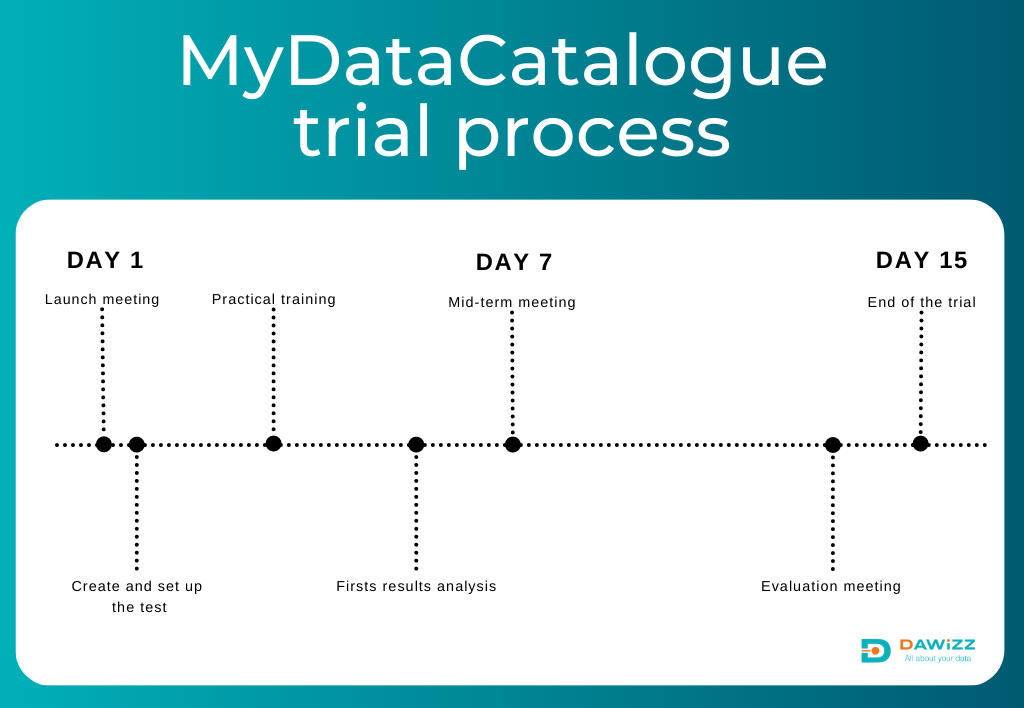 A launch meeting (45 minutes) to define the issues, the scope of the experiment, the deployment prerequisites of the probes and the trial schedule.
Provision by Dawizz of a pre-configured environment.
Two hours of practical training to learn how to inventory the informational heritage, document and enhance the metadata and data records.
A follow-up meeting of one hour at mid-term to share the results of the analysis and exchange on the features used.
A 30 minute evaluation to collect your impressions and possibly organize the next steps based on your needs.
Dedicated Dawizz Assistance
Our project team will be available for you during these 15 days for the service opening, the deployment of the probes and the analysis of the results. You will also be able to discover during the trial, new data governance features, such as data anonymization, data cleaning, and data quality tracking.
Also take advantage of online support
Finally, be aware that throughout the duration of this trial, direct access to the online support service (accessible from the platform) will allow you to ask questions and directly follow the consideration and responses to your requests at any time.